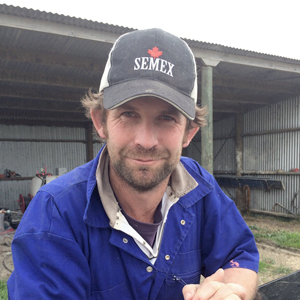 Campbell Young – Te Awamutu
Campbell manages his family farm. He runs a split calving system, milks 330 at peak, which dry off mid May, and 160-170 that dry off January. He describes his herd as "licorice allsorts", consisting of friesians, ayrshires and jerseys, some pedigree.
He runs a relatively low input class 4 system yielding 570kg MS per cow average (last year), supplies Open Country Dairy and chases premiums. The last two years have been record years. Last year they generated 178,000 MS off 100ha.
But profit is sanity, production is vanity. Campbell runs a profitable operation even at todays' payouts. "You can cut your costs in other places but if you cut your feed you might as well cut the cows throats."
And such is his cow condition that, "we can ramp production up further when things turn".
Campbell feeds palletised minerals through the shed specifically formulated for what he needs. "This is the third season and we haven't had a cow go down with milk fever in that time. The cows are healthy and they're eating, plus we have no metabolic disease because of the product we are using and what Ingham's Dairy Nutrition Specialists are doing is working."
Cows range from 400-700kg though every cow is fed 2kg of meal with no preferential feeding.
In a nutshell Campbell's success is due to his management system and being able to feed his cows adequately and as cost effectively as possible. Others have offered cheaper meal but he's not interested. "Cows were leaving 40kgs behind previous to Ingham's, now you'd be lucky if it was 5kg.
Ingham's Dairy Nutrition Specialists are always on call when you need them, I don't even check the silo, they do that. Also if conditions change, they have a nutritionist (Pip Gale) who comes in and tweaks the formula to meet my needs. And if there's a problem they fix it."