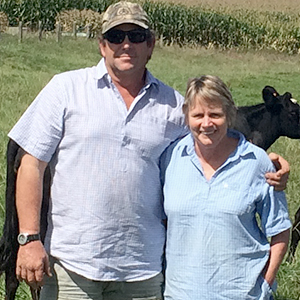 Carl and Glennis Flintoff – Tomarata
Well grown out calves
For Tomarata dairy farmers Glennis and Carl Flintoff, having well grown calves is the key to making sure they perform well in the herd.
The Flintoffs milked 200 cows through spring and dropped back to about 170 in summer, feeding maize, palm kernel and Ingham's dairy products in-shed.
They recently purchased a run-off block for their young stock and this is the first season they haven't sent them away grazing. They rear 40-50 heifer replacements annually.
Nutrition is an important part of ensuring the calves are grown out well and they use RumenX, a rumen development product, from day one. That product is then fed in conjunction with TopCalf and the ratio of RumenX is slowly reduced until the calves are solely on meal.
"We're really happy with it (TopCalf) and plan to keep using it," Glennis says.
"They take to it, they like it and straight away they're eating it – they're keen to eat it right from the beginning. We like the pellets because it's less wasteful with the birds and the calves seem to do really well on it.
"We are aware of how important protein in their diet is for their development."
They say their Ingham Dairy Nutrition Specialist, Mike Cottam, is knowledgeable and approachable.
"Mike has been great. He's been supportive of us and you feel you can ring and he will follow things up," Glennis says.
Find out more about