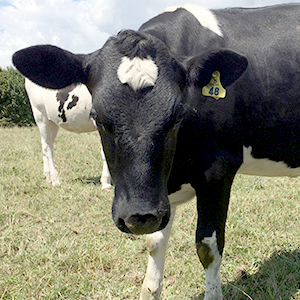 Graeme Rowe – Motunui
A dairy cow with capacity to produce starts with the calf
Graham's calves - born July/August 2015, showing good growth by February 2016.
A dairy cow entering the herd must have the capacity to produce, and Graeme Rowe knows that starts off with the calf.
Graeme, who farms at Motunui in Taranaki, rears 90 replacements for his son and also 30 beefies annually. At age 74, he has taken a step back from the milking shed but rearing the calves allows him to keep a hand in the farm.
"I rear all the calves and heifers and he sees them as two-year-olds. It gives us both our independence and the end product is a good one for him - and it gives me an interest," Graeme says.
He gives his calves the best start possible and uses Ingham TopCalf Formula 16 from day one.
"It's a very good product, I'm happy with it. The new formula is an improvement, definitely. The calves go for it and do well on it.
"They get a very, very good start by feeding them well all the way. They're fed colostrum milk, milk and meal straight away. There's a lot new products out there but I'm happy with my system, it works for me," he says.
"In the dairy world stock are bigger now and produce more. A cow coming in as a two-year-old has to have the capacity to produce – and that starts off with the calf, it's very important."
The beef calves are sold as yearlings at 15-months-old at the Stratford sale in October each year weighing a minimum of 400kgs and Graeme takes pride in the quality of the animals he produces.
"They're some of the best yearlings around and they make good money."
Find out more about