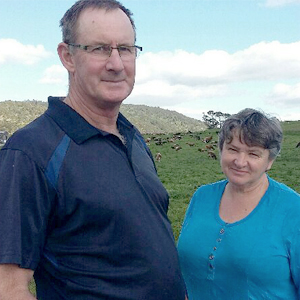 Graham and Joanne Hales – Whangarei
Graham and Joanne milk 280 jersey cows on a 100ha milking platform 40km south of Whangarei. They were originally pasture-only - grass and silage (no palm kernel). They have engaged contract managers since 2009 and the inshed feed system was installed February 2011 after the neighbour installed a similar system in Spring 2010.  Graham and Joanne did the calculations and there seemed to be benefits.
They worked out that by feeding meal they'd get 25-30kg MS per cow to pay for it. Their average was 275kg MS per cow, partly because the jerseys were lighter animals. This rose to 290 in the first year, 300-305 in the second, to 312 then 325. Last year was 350kg MS per cow with a good autumn, though with a reduced milking platform of 12ha from January.
"Cow condition is better all round," says Graham. "With a grass-only system our average body condition score going into calving was only 4.7. Last year was 5+. My observation is that the way the cows cycle we should be doing better again this year."
When it comes to feeding meal it's more than just production. You have to look at the bigger picture. It provides little enhancements that allow you to set up for the next season. "Because of our dry summers, the meal added to the condition score, so even when we dried off we are better going into winter. We have dried early March in the past, but now buying feed allows us to extend the season. Consistent feed quality gives you better control and allows you to get the most out of the pasture – it smooths the peaks and troughs in pasture growth."
"Ingham's Dairy Nutrition Specialists have been great to deal with, they give me lots of information, I learn a lot. They have a lot of knowledge around a pasture based system and where their feed fits in to it. We don't need any machinery for our system, no feed pad, effluent, mixing. It's simple to use and you just call to order more feed."