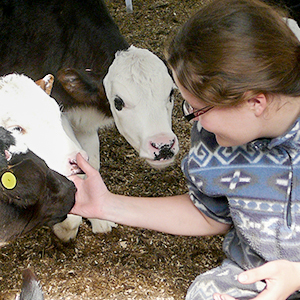 Jenny and Jon Dowman – Bell Block, New Plymouth
Taking the guesswork out of feeding calves
Ingham's TopCalf product has enabled New Plymouth calf rearer Jenny Dowman to grow her calves to their target weight faster.
Jenny and her husband Jon have a small farmlet at Bell Block, near New Plymouth, where they rear 350 beef calves annually. They do 280 Friesian bull calves and the balance are predominantly Hereford and Angus.
They take the calves through to 100kg, when they are sold to an agent who on-sells them to Hawke's Bay, Wairarapa and Manawatu farmers.
Nutrition and good growth as a calf is important as it gives the animal the foundation to be farmed on and fattened to high weights.
"You have to spend the money to make the money," she says of correct feeding.
Jenny has been using TopCalf for several years and was introduced to the product when she did a trial of four different products.
"We initiated the trial in our own interests as we had found that other feed manufacturers were continually changing their feed recipes, with mixed results in calf acceptance of their products and resultant weight gains.
"I find it (TopCalf) great, they put on weight fast. When I did the trial the calves on 20% formulation were streets ahead of the others – that's all I've used this year," she says.
Calves come it at four days old and go straight on to TopCalf Formula 20 from day one. "Meal is in the pens when they arrive and some will start nibbling at it straight away."
She finds the product easy to administer and having 20kg bags take the guess work out of feeding.
Using TopCalf has meant the calves reach their target weight of 100kg earlier. "This year I got 110 calves away by October 10 – that's very good. Usually people get them away by the end of October," Jenny says.
"I would also like to commend Ingham on their ongoing product support and advice."
Find out more about