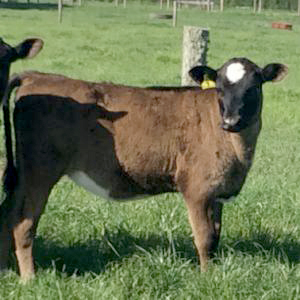 Rob and Liz Taylor – Ohaupo
Huge herd improvements
A 9 week old calf feed on TopCalf Formula 20 and TopCalf Formula 16 from Rob and Liz Taylor's property.
Ohaupo dairy farmer Rob Taylor reckons he easily gets back double his money spent on feeding meal, such is the impact on production since he began feeding it five years ago.
Rob and Liz Taylor own a 64 hectare dairy farm in the Waikato and milk 180 cows. They rear 40-50 calves a year, 20 beefies and the rest are replacements.
They've been feeding Ingham products to their calves for five years and to their cows for two years. Calves get TopCalf Formula 20 for three weeks after they're born before transitioning on to TopCalf Formula 16. They are fed right through until they weigh over 100kgs.
"Nutrition means a lot. It helps develop their rumen up. Dairy cows need a big round rumen to be able to have the capacity to eat," Rob says.
Once the calves reach 100kgs they change to an Ingham TopCow Dairy (Sonya confirming actual product) with zinc and minerals.
"We weigh them on the first week of April and they average 220kg, which is pretty good for dairy heifers. They just mushroom – you can see them growing."
Since they started feeding meal Rob has noticed a huge improvement in his herd.
"Their wellbeing and breeding, mating and production. Even though the payout is down we are still feeding 10% meal. The cows peaked at 28 litres per cow for 70 days and we had a 98% submission rate for mating. Our empty rate is only 3-4%.
"They can't get enough energy from grass alone. They need something else – I reckon we've proven it over the years, 21-22 litres per cow was our peak before feeding meal. I reckon we easy double our money on what we put in on meal."
The Taylors also value the knowledge and advice they get from Ingham Dairy Nutrition Specialist Rebbecca Burrows.
"Rebbecca is fantastic. When we were with a different company previously she never pressured us to change – we decided she was valuable and knew what she was talking about. We slowly grew from there and changed over.
"She never pressured us and that's what we liked. Now we're good mates, she calls in and checks things out. She's knowledgeable about products and looks at pastures and what protein level is needed," Rob says.
"The company is very good, very professional."
Find out more about