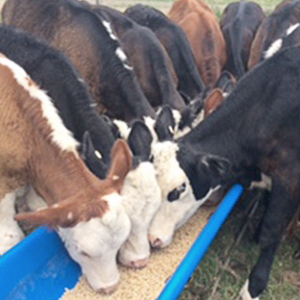 Stephen Weck and Jo Comins – Te Awamutu
Heavy weights at weaning
First time TopCalf users Stephen Weck and Jo Comins weaned their calves at their heaviest weights ever this season.
Stephen, who farms with partner Jo on their 90 hectare property near Te Awamutu, put the impressive results down to a combination of feeding TopCalf pellets and whole milk. "The meal and whole milk, together, it was the perfect recipe."
The couple rear about 500 beef calves annually, up to 350 predominantly white-face heifers that are taken through to yearlings and sold at the sale or to private buyers, and the balance are reared on contract for Jo's parents. Those calves are farmed on for fattening and slaughter.
Depending on the season they keep about 30 head through to 18-months, when they are killed or sold store.
Having previously used a drier muesli product they believed the calves would eat and digest better, Stephen and Jo started looking for a new product to try.
They went to the Fieldays to look at different meal options and ran into Ingham Dairy Nutrition Specialist Rebbecca Burrows, who gave them TopCalf samples to try.
"We put them in the shed and were really impressed that the calves were in, nibbling away, good as gold. We put the meal in the shed ad lib from day one," Stephen says.
"I like the size of the pellets and now we don't have any trouble with birds… they used to be bathing it in, it used to drive me mad. We used to have hundreds of birds in the shed, not now."
They found the calves got straight into the meal and enjoyed it.
Once the calves go outside they still have access to meal in troughs. "We have found they do very well on it, with weight gain… we had no problems, no deaths. This season just gone was our best season for calves.
"We weaned to the heaviest weights we have ever done. I think it was a combination of the meal and whole milk. We fed a little longer but were really impressed with the weight gain, just on meal, after weaning."
The calves put on 1.1-1.2kg a day on the meal, after weaning.
"The product met our expectations, that's for sure," Stephen says. "We were really impressed with the weight gain and how quickly the calves got onto it. I had tried other pellets and they were too big, but these pellets are the perfect size for calves."
Find out more about