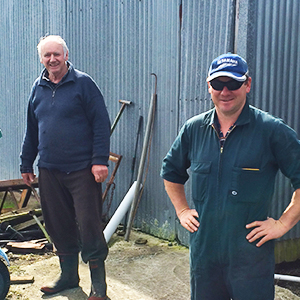 Wayne Kowalski – Patetonga
Wayne runs 210 friesians on the family farm at Patetonga. He's been there 15 years and has been using Ingham's Dairy Nutrition Sepcialists for three or four seasons. Previously they were doing 70,000kg MS and are up to 93,000, which is attributed to the use of TopCow product. "We get the cows in calf easier and they all calved in a nine week period, plus our empty rate was sitting at 10% before meal and is now 4-5%," says Wayne.
The herd has a submission rate of 97% in a three week period, less milk fever, the cows cycle strongly and hold their condition.
Wayne and George now have 95% of the herd eating meal constantly and have avoided a number of health issues through being able to add minerals like copper and magnesium as needed to supplement grass intake, make more milk and get cows in calf.
And the cows that don't eat the meal cull themselves; they don't get in calf and it's easy to pick those not on the meal.
When asked about the size of his cows, Wayne noted that, "Big cows are always big, but there isn't as big a difference between the bottom end – they're not struggling any more."
He's used Ingham's Dairy Nutrition Specialists throughout and they haven't given him any wrong advice. They model Wayne's data and advise him on adjustments as the season progresses. "They always look at the grass coverage when they do so and are able to predict production levels; they're very knowledgeable," says Wayne.