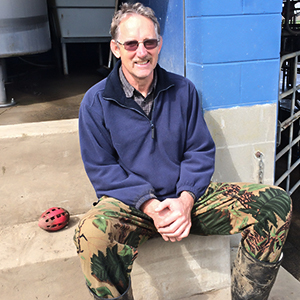 Gerry Sturkenboom - Te Aroha
Previously an IT consultant of 30 years, Gerry's been dairy farming at Te Aroha for five years running 125 friesian crosses. He started using Ingham TopCow five years ago and has recently added TopCalf to the mix.
"We were only going to dairy properly, or not at all," says Gerry. "Grass doesn't work all year round." They were up to 508kg MS per cow - Gerry says he's "reasonably satisfied, considering the cows are a combination of all sorts." In the light of the lower payouts production has been cut back to around 480kg, though the cows remain in such condition that this can be ramped up as the payout turns.
Gerry began with calves that were other peoples cast offs and got a bit of breeding onto them. Gerry is convinced that Ingham's products have enabled him to increase production and push the boundaries. He also points out that he would be profitable at the lower payout of around $4.00, if he weren't consciously carrying an added labour unit.
Meal is the most convenient method of getting the right mineral balance into the cows and he makes sure every cow gets it. "We factor that amount of food into their DM requirements each day, otherwise we won't get the target production levels; we don't want that," admits Gerry.
Given meal is fed at a rate that fills up any deficit, general cow condition and production levels are much easier to manage for Gerry. "Basically we just dry them off to give them a break."
Though it takes more work, careful monitoring to calculate the kg DM each cow is consuming allows Gerry to work out how much meal to feed. "It's just about maintaining consistency to get the best from your cows for the least cost."
Gerry works with the Ingham Dairy Nutrition Specialist Graham.  They do the math together to determine what to feed. It's a partnership that Gerry says works well given the effectiveness of the advice.